Want better results from your meetings?
Here's a stealth technique and it's not what you expect: Eliminate "Ad Hoc" discussions.
You know – those conversations you hold when you run into someone in the hallway? Or when you "just happen to stop bye" their office because you were in the neighborhood.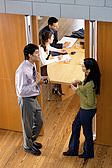 It takes 20 minutes for an interrupted mind to regain it's focus and momentum after an interruption. It may "only be a 5-minute issue" to you, but you're disrupting them.
So if you're the one doing the interrupting it's all fine and good for YOU, but it's hell on the other person.
AND if we're honest about it, you know you've got gremlins muttering in the background of your mind when people do it to you.
SO let's increase your productivity and theirs by
First – stop interrupting people with "Do you have a quick minute?" Courtesy will have them saying "Yes" when it isn't true.
Next – set up calendared time to have a focused, full attention discussion on the topic. Yes, even if "It will only take 5 minutes to find out…" It's seldom that fast. If it was, an email would do. That means you'll NOW take 5 minutes to think through your goal before you go into a meeting AND you'll give them the opportunity to get all their attention devoted to the topic you want to cover.
Set the pattern for yourself and you'll be able to ask the same of others with ease.